You're at the heart of everything we do
Darbhanga's best marriage hall
Whether you are celebrating a wedding, reception, engagement, birthday, anniversary or you are hosting social and cultural events, dealers' meet, customers' meet, business meetings, conferences, and other corporate events, Bhupa Greens offers a stunning location to make your event memorable. It is the premier most wedding and event venue in Darbhanga.
Our banquet hall and the sprawling lawn in front of it are delicately designed by hand-picking each item from across the country to give you an experience of your lifetime. You will experience our service quality at every stage: from your first enquiry to final execution. Our service staff will be your guide at each step of the process.
Wedding
Your day, your vision, our execution!
It's your wedding day: it is the day when life will take a new meaning, it is the day when the magic will happen.
It is not every day that fairies weave our life with their stories, it is not every day that we snap the fingers and magic happens, it is not every day that pink of girl's cheek brings sparkle to brown of boy's eyes, it is not every day that magic happens, it is not every day that we marry.
Our team of wedding services professionals have learnt to weave magic in your wedding ceremony. We have helped many couples start their life's journey.
Mehndi & Sangeet
Traditionally mehndi & sangeet was confined to Punjabi culture, but riding on the back of Bollywood blockbusters, this pre-wedding function has become a mainstay of any Indian wedding. Even in our Mithila region, wedding celebrations begin with a high-spirited mehndi & sangeet function. Our event hall is well-equipped to add oomph to your pre-wedding bash. We have space to host your DJ floor alongside the stage, which is spacious enough to host your ceremony and allow room for the compere (emcee) to make the ceremony come alive.
Engagement
Well begun is half done, as they say, and rightly so. Engagement is the formal announcement of a marital relationship that your son/daughter is going to form, and which will mark the beginning of merriment that is going to come in their life. Ring ceremony precedes any wedding celebrations and should be given utmost care in execution. An engagement ceremony is a promise that the bride and groom's family make to each other. For that, you will need a place as solemn as our wedding venue, which is elegantly designed to meet all your needs related to a ring ceremony and wedding. Perfection is what we aim for in each celebration that we host.
Reception
A wedding reception is an occasion when a bride and her groom is welcomed in the groom's family as a couple and formally introduced to friends & family. It is the ceremony where, along with a welcome, the bride is also presented to the groom's society. A society where she is to carve her future life. What would be a better way to welcome her than to host the party in the most luxurious banquet facility in Darbhanga? With its connected dormitory and lavish rooms, our facility is aptly suited for welcoming your daughter in law in your family. This initiation ceremony will make her feel royally received in your family. Give us a try and book our venue for your daughter in law's grand welcome to your family.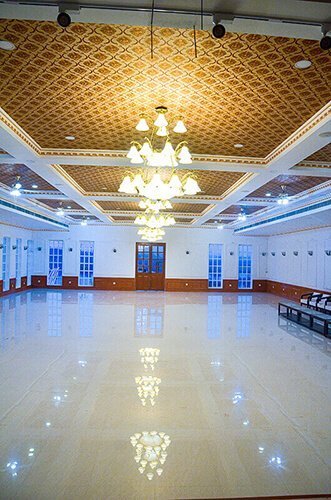 Once in a while, right in the middle of an ordinary life, love gives us a fairy tale.

The more you praise and celebrate your life, the more there is in life to celebrate.
Business Meetings
We have special packages to meet the needs of our business customers. Contact us to know more.
Bhupa Greens offers you an inspiring and unique venue for your business meetings and corporate events. Our event venue is the most peaceful and luxurious meeting venue in Darbhanga. Whether it is for your board meeting or conferences or your product launch ceremony or post-launch party or team building or partners' meet or company celebrations of any kind or size, our best in class services offer the ideal environment for you and your guests to meet all your needs.
Located just on the outskirt of Darbhanga, nestled amidst lush green surroundings, Bhupa Greens and its team of dedicated professionals are always at hand to help you plan your event and gathering to the minutest details. We have 5 fully furnished rooms to accommodate delegates during the day and to give them a comfortable sleep during the night. Our rooms are equipped with 5-star-category amenities.
We also have a beautiful ground to help you host your large events, alongside our best-in-town event hall. With natural lights, a high ceiling and convenient seating arrangements, and a large stage with a well-designed dais, unmatched public address system, daytime projector, free wi-fi in the entire campus, and a large drop-down screen. Our facility is unmatched in the city. We offer the best meeting venue and party hall in Darbhanga.
Parking is not a problem at Bhupa Greens. We have a parking space that can accommodate up to 200 cars, most time of the year.
Dealers Meet
As a key stakeholder in your supply chain, your dealers are the key to your business success. You must make them feel important, and one sure way to do so is to host them in a lavish banquet facility. The meetings that you will have here will have a lasting impact on your attendees, and it will strengthen your relationship with them. Our state-of-the-art facility and modern facilities will fulfil all your business needs.
We have special packages to meet the needs of our business customers. Contact us to know more.
Customers Meet
Customer is king and king needs a royal welcome, and nothing comes close to Bhupa Greens when it comes to luxury. Our facility has become a trendsetter in Darbhanga. You can comfortably invite and entertain your customers here and impart information on your company and products. There are few serene environments in the city where you can have a close discussion with large groups as provided by Bhupa Greens.
Employee Training & Activities
Employees are your biggest asset. It is these frontline warriors who take the banner of your company to your customers, and build, nurture, and sustain your brand as well as business. Like any other assets, employees also need curating and promoting. For that, you will need a facility that has ample space to do the training and other activities that your company plan. You will also need a place that remains distraction-free during the entire thing. These and other business needs are successfully met in our banquet facility. Your employees will feel quite excited, and you may not need to incur unnecessary expense to take them outstation for many such activities.
Birthday
It is the most important day of your life.
The auspicious day on which you were born calls for a grand celebration. Honouring the day when your child set foot in the world is the most precious day of your life. It was the day when your story began, and you have every reason to make this day memorable each year.
To help you make your kid's birthday memorable, Bhupa Greens gives you a place as unique as you are and as exclusive as you want your party to be. Ours is the best party venue in all of Darbhanga. Our facilities cannot be matched by other party halls in Darbhanga claiming to be among the best.
Social & Cultural Programs
One prerequisite for a successful social and cultural gathering is an open and peaceful space, away from the traffic jam and commotion of the town, which at best distract the audience and at the worst delay the event. Bhupa Greens offer the best event venue in Darbhanga, which does not only helps you avoid the mad rush of the town but also gives you ample space to conduct any social and cultural program. Our 15′ X 50′ stage gives enough room to all your presenters and performers to explain their points and to show their talents.
School & College Programs
An educational institution is not just a place for rot learning. There are activities that your institution plan to make the learning fun and more meaningful for the students. We offer the best in class projector and public address system and a 15′ X 50′ stage, which gives enough space to all your presenters and performers to explain their points and to show their talents. These can help you impart the knowledge and communicate your message quite effectively.
Everything Else
Regardless of the nature of your gathering/party, Bhupa Green will make your event memorable.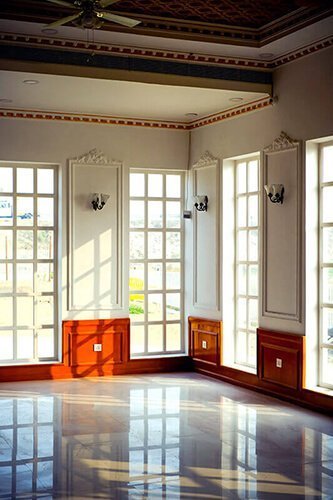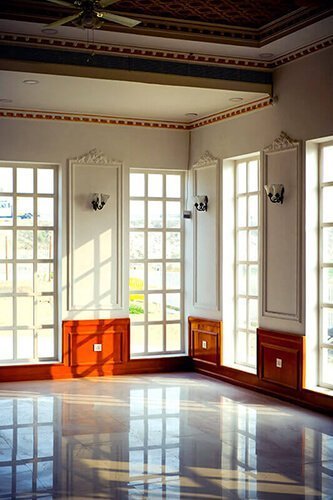 In the arithmetic of love, one plus one equals everything, and two minus one equals nothing.
CHOOSE US
Why Book Bhupa Greens?
Largest Pillarless AC Marriage Hall in Darbhanga
We have 4200 SQFT centrally air-conditioned indoor space, 14-feet high ceiling with a sitting capacity of up to  500 guests.
We have Outdoor Lawn + Best Hall in Darbhanga
A sprawling 21000 SQFT lawn in the front and 3000 SQFT space in the backyard make it the largest among the best banquet halls in Darbhanga.
High Ceiling
Unlike almost all the marriage halls in Darbhanga, where the ceiling of the hall is kept very low, our ceiling height is 14 feet, which gives you a feeling of spaciousness.
Airconditioned Rooms & Dormitory
We offer 5 air-conditioned rooms and 1 large air-conditioned dormitory to accommodate your guests during the wedding.
No worries about parking
Parking is not an issue with us. Our venue has a dedicated parking space for our guests.
Write To Us & We Will Get Back to You ASAP