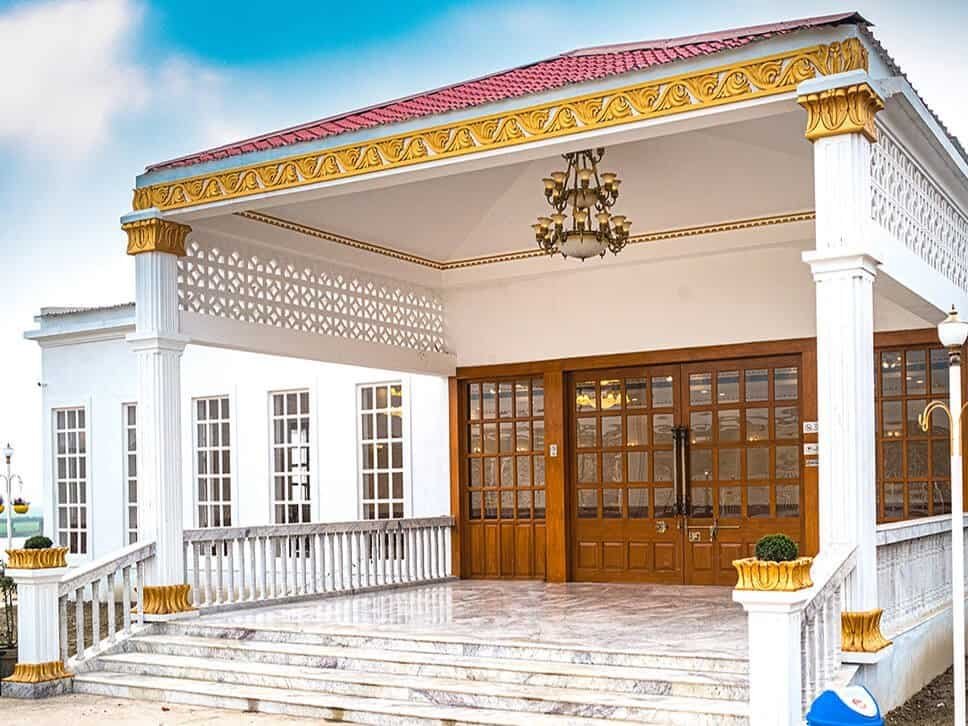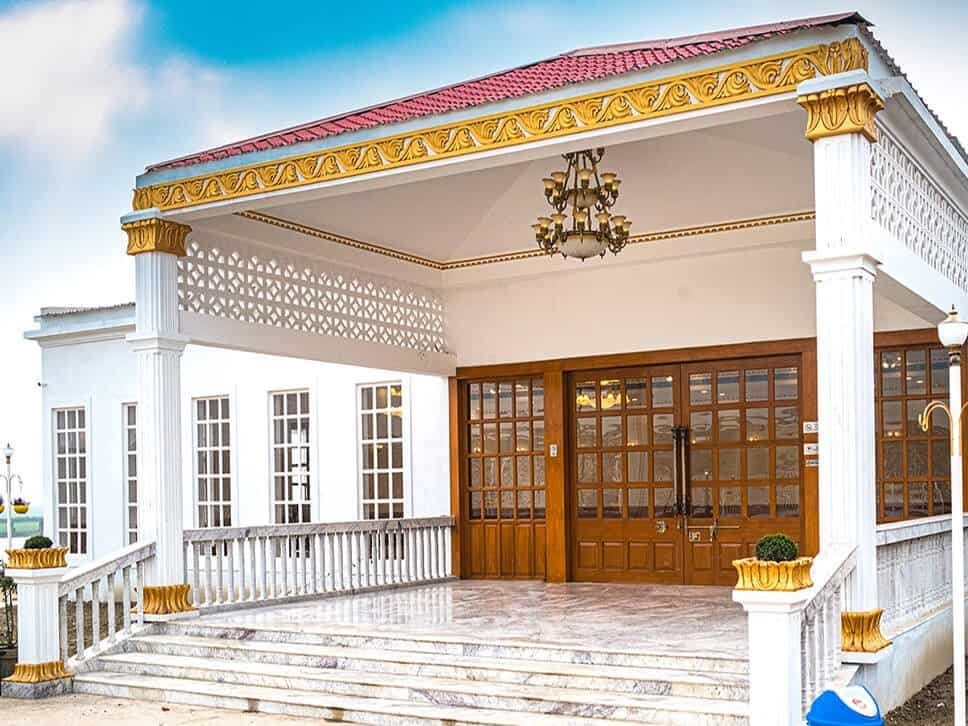 Nestled amidst the green farms, lush landscapes, enchanting surroundings, away from the usual hustle and bustle of the city life, right on the western edges of Darbhanga, you will discover Bhupa Greens, the most elegant and iconic event venue. It is, by far, the best marriage hall in Darbhanga, Bihar. The pillarless banquet hall is located right on the National Highway 57 (NH 57), opposite Swami Vivekanand Cancer Hospital, some 200-300 meters ahead of Darbhanga College of Engineering. It offers a relaxed atmosphere to conduct your events like wedding ceremony, wedding reception, engagement, birthday parties as well as business meetings, corporate parties, cultural meets, college and school functions, and social events in absolute privacy and security.
The iconic and exclusive banquet hall is decorated in style imitating grandeur of European palaces with extra-large chandeliers and twin-lamp wall lights. It is centrally air-conditioned and is fitted with a state-of-the-art sound system. The marriage hall has been regally designed with 14 long French windows, and two huge doors, and a 14-feet high ceiling.
It offers 4200 square feet of pillarless space. We have opted for a design where we could do away with pillars from the inside of the wedding hall to give our clients a feeling of openness. Unlike other banquet halls, we have also opted for a high-ceiling design to give our venue breathing space. Our 14-feet high ceiling makes our main function room look spacious and grand.




Brief Overview
Rooms & Accommodation
Our unwavering commitment to give you a luxurious venue for all kinds of wedding functions, parties, corporate meetings, and other special occasions, and our unceasing focus on your comfort have helped us build a banquet facility, which is unmatched in Darbhanga city. In our wedding venue, we have worked hard to provide our guests with five-star-level facilities.
Rooms with Attached Bathrooms
In the Spotlight
Facilities at a glance
Our attention to details to even the smallest things is visible in every aspect of our banquet facility. Here, we have listed our essential facilities, in brief, details of each aspect of the facilities have been provided on their pages.

4000 SQFT Pillarless Hall

Octagonal Gazebo (Mandap)



400+ indoor sitting capacity

Outdoor Bar-B-Que Faciltiy





TESTIMONIALS
What People are Saying

"Excellent location, enough parking space, hall is super best in everything. Really excellent hospitality of Bhupa Greens owner Bikram Ji. Self catering required, but alliance catterer Wedking Event service is very good. I recommend Mithlawasi for Bhupa Greens."
Vikas Anand


"Great place in darbhanga banquet hall."
Mohan Kumar Yadav


"I was just passing and i saw Bhupa Greens I stop my car and have a close look oh my god i found awesome place in Darbhanga the entire looks of the place was just awesome, I cant control myself and went of Google map to see the interior and its just mind blowing. will surely book these place for any future events happens in my family "
Makki Mohammad

"Very nice marriage hall…."
Ritika Raj's vlogs

"Best and only single wedding hall in the city for marriage purpose specially with extraordinary space and interiars. All staff are well behaved . I strongly appreciate the hospitality I felt during my ceremony. "
Arvind Karna

"Good and Beautiful place"
Agrim Mishra

"Vary nice look and quality also"
R-J Rajnish

"This place is amazing. Mujhe laga hi nahi ki darbhanga mein bhi aisa kuch ho sakta hai. 5 star!"
Pia Sharma

"बहुत ही बढ़िया अनुभव, यहां का कार्यक्रम अपनी भव्यता की बजह से अनुकरणीय।"
Bhartendra Singh

"Shaandanr. Maza aa gaya yahan function mein"
M.Afrooz
for more images and videos